The St. Francis Option:
Retreat, Engage, or Both?

"And in the enclosure, where they live, they should not permit any person to enter."
The Rule for Hermitages, 7

"All the brothers, however, should preach by their deeds."
The Earlier Rule; chapter 17, 3

If you've turned on the news lately, you may be aware that the United States has a new President. If you paid attention, you may also be aware that there are some who are not pleased. On the other hand, you may have observed that there are others who are, on the contrary, quite satisfied. Oh, and the two groups are not happy with each other, either. Everywhere, it seems, there is chaos: the news and social media are filled with images of people attacking one another with vitriol and sometimes even fists.

Unfortunately, these divisions have hit close to home: family members are pitted against one another; colleagues are giving or receiving the silent treatment; longtime friendships have ended. Even parishes and churches are split along partisan lines. To some, the new president is clearly anti-Christian whose positions on immigration, the dignity of the human person, the environment, and the vulnerable are incompatible with the Gospel imperative to aid those in need (see Matthew 25:35-36). To others, however, he is seen as a champion of religion -- a King Cyrus-like figure whose election was orchestrated by the hand of God to shore up Christian institutions and stamp out vices plaguing contemporary culture (see Ezra 1:1-11).

In all this, what are we to do? How are we -- as committed Christians -- to live in today's society? Some are, in fact, opting not to. They have chosen, instead, to withdraw… to quit. They are calling it the "Benedict Option."

St. Benedict was born in Norcia in AD 480. As a young man, he was sent to Rome to study. However, he soon found himself troubled by the licentiousness and decadence of his companions and the citizens of the ancient city. So he withdrew to the caves of Subiaco to live as a hermit. There he met others who entreated him to guide them in the monastic life. He later wrote a rule and founded twelve monasteries in that area as well as in Mount Cassino where he died. While western society entered into a centuries-long period of decline, religious life flourished within the monasteries as later Benedictine monks safeguarded not only the Christian life, but also culture.

In a similar vein, some are calling on today's Christians to retreat from society. As our own society has deviated more and more from Judeo-Christian values (concretized in certain laws and court rulings) and is ever more hostile to the Church, they are suggesting that now is, once again, the time for Christians to withdraw from the world.

Quitting a culture that seems irreversibly anti-Christian and beyond the point of no return to form intentional, close-knit Christian communities bound by a strong and dynamic faith-based way of life would seem, according to this Option, appropriate and timely. Within these communities "fortified" in the Christian way of life, both religion and culture would be safeguarded and flourish and eventually lead to a Christian Renaissance of re-evangelization. This would be the "Benedict Option."

But does God really want Christians to withdraw from the world? Is there another way? What about a "St. Francis Option"?

I believe that the life and ministry of St. Francis of Assisi -- though he lived eight centuries ago -- can and still does suggest a relevant and timely way to approach our increasingly secularized contemporary world.

First, as Scripture assures us that "there is nothing new under the sun" (Ecclesiastes 1:9), Francis' era was no less wicked than our own -- or that of St. Benedict. Thomas of Celano, Francis' first biographer, described Assisi in the late 12th century in not-so-virtuous terms: "shameful and detestable; lust and wantonness; every kind of debauchery; wickedness; sin" (see First Life, chapter 1). If Thomas' description is accurate, it seems that the high middle ages in Assisi were no golden age of Christian sanctified living. And Francis, before his conversion, was quite at home in such an environment.

Full of pride and seeking to increase his social standing, Francis set out to become a noble knight. While overnighting in Spoleto on his way to fight in the Crusades, however, he heard a voice say to him, "Francis, who can do more for you, the Lord or his servant, a rich man or a beggar?" When Francis responded that the Lord could do more, he was told to go back to Assisi where he would be shown what to do (see Bonaventure, Major Legend, Chapter 1, 3).

After Francis returned home he felt, like Benedict (and perhaps many of us today), the need to leave his native city and retreat from society. Francis, too, desired to separate himself from the vices and transgressions of his townspeople in order to heal and listen to what the Lord had to say to him.

And so he did. Francis retreated with a companion to a cave on the outskirts of Assisi (see Thomas of Celano, First Life, chapter 3, 6). The sources do not specify where the grotto was. It may have been up on Mount Subasio in what is now a hermitage called the Carceri, or it could have been in a crypt underneath the ruined church of San Damiano. In any case, it was there -- in the solace in the hills outside the city of Assisi -- where Francis discovered his "great and precious treasure."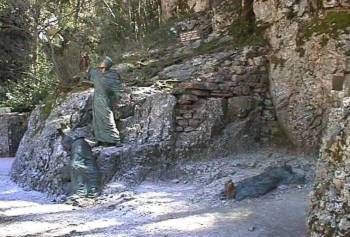 Some statues of Francis and two brothers in the Carceri hermitage.