The month of January derives etymologically from the Roman god Janus. According to ancient mythology, he was a two-faced figure: one face looking backward, the other while the other looking forward. He stood at the threshold of doors or, in this case, at the beginning and end of the year. As our calendar marks the month of January, we, too, can look forward and backward and ask ourselves various questions.

On pilgrimages, we often take groups to the Catacombs of San Callisto. As we drive along the ancient road, the Via Appia Antica, leading up to the entrance just outside the old city walls, there sits a nondescript little church. Its name is unusual as it is a question: "Domine, Quo Vadis?"; Latin for "Lord, where are you going?"


The legend has it this was the spot where Saint Peter, who was fleeing Rome to escape persecution, had a vision of a risen Christ.

According to the apocryphal Acts of Peter, Peter asked Jesus; "Domine, quo vadis ?" meaning "Lord, where are you going?" to which Jesus answered; "I am going to Rome to be crucified again". This made Peter turn around, go back to Rome and face his martyrdom

In some ways, Peter's question is similar to a different vision that took place some 12 centuries later, although this time it was the Lord who posed the question. A young Francis of Assisi was still seeking worldly honors and was on his way to fight in the Crusades in hopes of becoming a knight and nobleman. However, while overnighting in Spoleto, he heard a voice speak to him in a dream: "Francis, who can do more for you, the Lord or his servant, a rich man or a beggar?"
"The Lord, of course," responded Francis.
"Then, why are you serving the servant?" asked the Lord again. "Go back to your home and you will be shown what to do." (See Bonaventure, Major Legend, Chapter 1.3).

God was trying to help Francis change direction. God wanted Francis to understand who he was serving: himself, his own will and desires, the expectations of his culture, the desires of his earthly father. Indeed, Francis awoke and, like Peter, promptly turned around. He went back to Assisi to fulfill God's will by renouncing his dream of knighthood and taking on the life of a penitent.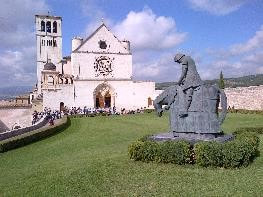 Statue, by Umbrian artist Norberto Proietti, in front of the Basilica of St. Francis in Assisi, shows Francis returning from Spoleto.

The question God posed to Francis makes me think of yet another divine query — perhaps the first time God ever questioned anyone. In the Book of Genesis, after Adam sinned, God asked the first man: "Where are you?" (Gn 3:9).

We know that God is omniscient and therefore knew exactly where Adam was: hiding naked in the garden with Eve. God, however, was not asking for his own sake; instead, he was posing the question for Adam's sake. God wanted Adam to look inside and realize what he had done, that he had violated God's command and sinned against him.

Of course, God does not speak only to great saints or biblical characters; he speaks to all people. All of us can ask ourselves: "Where are we?" "Where we are going?" and "Who we are serving?" Then, if need be, we, too, can turn around and move in another direction — the direction God wants for us in our lives.

Yet, if we are already sincerely seeking God's will for our own lives (as most Secular Franciscans probably are), January is a good time to look back at the previous year as well as look to the future. It is a good time to take stock of what is happening around us and then seek God's will.

Regardless of what has happened in this past year, we must look forward to the future with hope. We are a people full of hope. Looking forward, there may very well be more tragedies and difficulties. But there will also be countless graces and blessings: for God is always at work in this world. So let us be full of gratitude and give thanks while we live.

As you walk the road wherever God leads you this year, remember our ultimate destination. Christ gave us hope when he said, "My kingdom is not of this world" (John 18:36). For our hope is in the Resurrection: "Blessed be the God and Father of our Lord Jesus Christ, who in his great mercy gave us a new birth to a living hope through the resurrection of Jesus Christ from the dead" (1 Peter 1:3).

Bret Thoman, OFS, is director of St. Francis Pilgrimages and author of St. Francis of Assisi: Passion, Poverty, and the Man who transformed the Catholic Church and St. Clare of Assisi: Light from the Cloister.