It was August 24 of last year, at 3:40 in the morning. I was sleeping soundly with Katia in our apartment in Loreto. Suddenly, I was awoken by a combination of strange sensations and noises: the bed was shaking; an abnormal, rumbling sound was coming from outside; car alarms were going off; neighbors were shrieking.

While I lay there disoriented and confused, Katia, lying next to me, knew what was happening: "Terremoto!" she shouted. It was an earthquake! After the house shook aggressively for about ten to fifteen seconds, it started swaying for about the same amount of time. Finally, it stopped and everything became, once again, still. Eerily still.

Katia and I went downstairs and immediately turned on our devices to get some news. The quake was so violent in Loreto, I was worried how bad it was at the epicenter. Our Italian friends were online, too, and were declaring themselves safe on social media. But then the news reports came in. It was bad.

The first reports were that the magnitude was 6.2 and the epicenter was close to Perugia or Rieti-- about seventy miles from where we live. There was tremendous loss of life and property, they said. I worried about Assisi. It turned out that the affected areas were some mountain villages along the border of the Umbria, Lazio, Abruzzo and the Marches. The damage was catastrophic; some towns were razed to the ground.

Initially, the death toll was just two. But then it climbed to six, then ten, then twenty. Eventually, it reached 299 people. Another 365 were injured, while approximately 2,100 lost their homes. It was a true tragedy.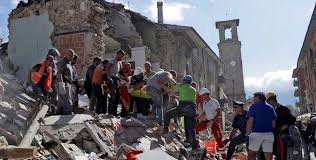 Amatrice after the August 24 quake