The Holy Land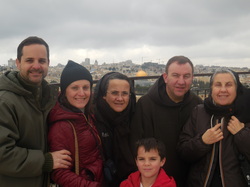 St. Jerome, who translated the bible into Latin from within a cave in Bethlehem, called the Holy Land the "Fifth Gospel."
He said, "We have a better understanding of the Greek historians when we have seen Athens…[so] we have a better comprehension of Sacred Scripture when we have seen Judea with our own eyes and contemplated the ruins of its ancient cities."
To visit the very places where our Lord lived, to see the same sights he saw, to walk in his footsteps where he walked, to visit the places where he preached, taught and created miracles, to touch the manger where he was born, Calvary where he died, and the Sepulchre where he was resurrected creates a profound union with him.
My family and I were blessed to visit Jerusalem in January, 2015 with a friar and some Italian nuns. Jerusalem is one of the most fascinating and extraordinary places on earth. Every Christian should visit it once in their lifetime.

Contact us to
help you put together your own pilgrimage
. Holy Land pilgrimages are usually organized in groups; however, Israel can also easily be visited with one or a few people. It is very safe and easy to get around by public transportation or private taxi or even rental car.
Contact us to help you organize a pilgrimage to the Holy Land.
Click here for a sample 10-day itinerary
---