Medjugorje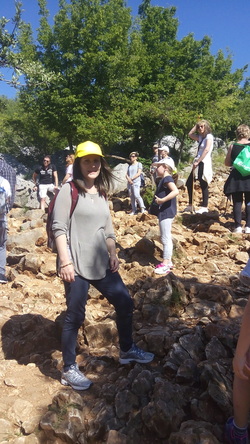 On June 25, 1981, six local children claim to have had a vision of the Blessed Virgin Mary. Since then, Our Lady has been allegedly appearing to them daily making Medjugorje one of the most popular pilgrimage destinations worldwide.
We (Katia, and our two children) visited Medjugorje with a group of Italians in June, 2015, and can add to the testimony of many special graces. We met numerous people who testified to their experiences in Medjugorje and found it to be truly an extraordinary place.
Medjugorje is a small town and you can easily visit all the significant places: the parish church of St. James, Apparition Hill, the Blue Cross, the Risen Christ statue (that emits teardrops), and Mt. Krizevac (Cross Mountain). The climbs are penitential, and Mt. Krizevac is quite aggressive; but they are beautiful experiences. Medjugorje is a perfect place to spend time in prayer, go to Mass in English, make confession, Eucharistic Adoration and pray rosaries.
Medjugorje can be accessed by air (to Sarajevo, Split, or Dubrovnik) and then by taxi. Or you can get arrive in Croatia from Italy from the ports of Ancona or Bari to Split or Dubrovnik and then by taxi.
Click here to see some photos of Medjugorje.
---