"St. Francis of Assisi: Passion, Poverty, and the Man who Transformed the Catholic Church"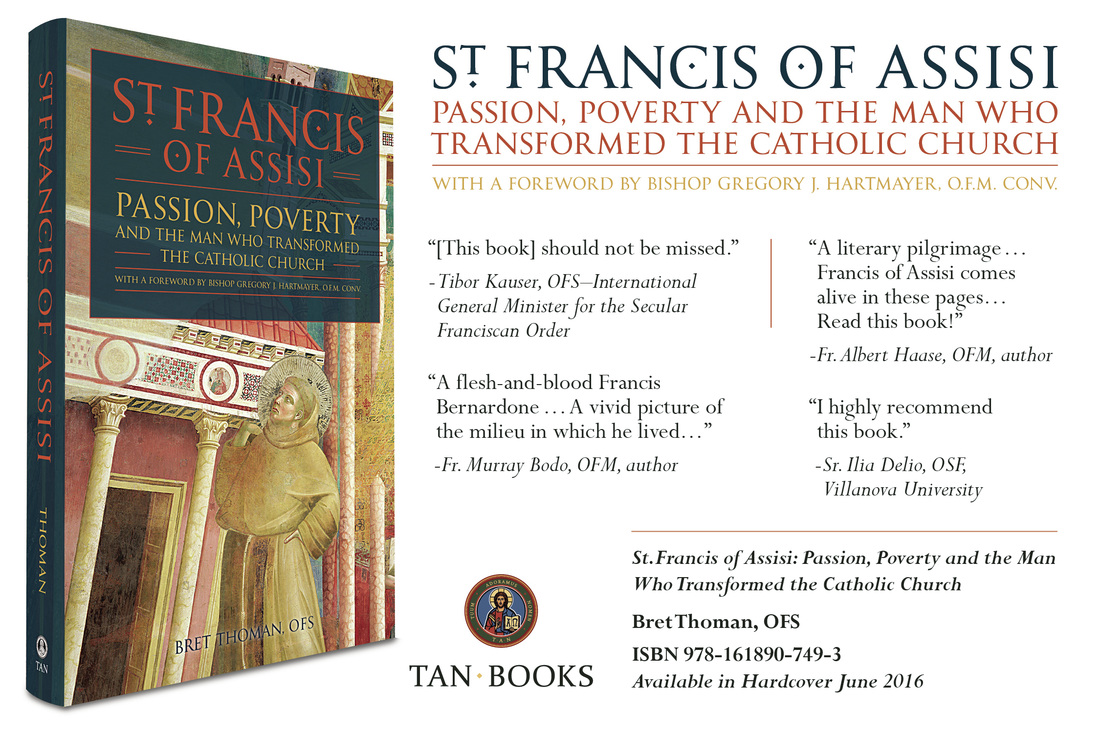 All Christians know his name. Few truly know the man.

Francis of Assisi was not even five feet tall. He was not well educated. And yet he is the one saint commonly recognized as Alter Christus, the "other Christ." Francis is not just any saint—he's a saint for everyone, whatever your place or position in life. But do we really know him?

Who was this man at his core? What was it that thrust this little man from a little town to the heights of sanctity, into a place of high honor among the celestial court?

In this riveting biography, author Bret Thoman accomplishes what few biographers have. He pierces the inner life of Francis, revealing his deepest passions, his unquenchable love for poverty, and his unshakable grip on the core of the Gospel. The life of Francis, so often festooned with spectacle and miracle, is in reality the story of a soul yearning for God in every moment and glimpsing His presence in all creation.

Journey back in time on a literary pilgrimage in the footsteps of a flesh-and-blood Francis Bernardone as the sights and sounds of the 13th-century come alive. Discover Assisi's cathedral and the bishop's palace; San Damiano, the Portiuncula, and the other churches Francis rebuilt; the leper hospitals where his penance began. Travel beyond Assisi to Greccio, the Carceri, and the other mountain hermitages where he prayed and fasted. Go to the Lateran palace where Francis met the stately pontiff who granted approval for his way of life. Journey also to Laverna where he received the stigmata.

Above all, however, walk with Francis as he makes his most important pilgrimage: the interior one as he moves from war to freedom in his own heart. After a lifetime embracing poverty, practicing penance, serving poor lepers, praying and fasting, and living the sacraments, Francis confronted the Islamic Sultan and the violent Crusades in the Holy Land not with the sword, but with the cross of Christ.

If you want to see the hidden life of the greatest saint, if you want to hear his thoughts, if you want to feel the fervor that blazed within his soul, you must read St. Francis of Assisi: Passion, Poverty, and the Man who Transformed the Catholic Church.


---
Here's what they're saying:

"Something new and fresh about St. Francis. … Rich in original and distinctive insights which are useful for today." Fr. Raniero Cantalamessa, OFM.Cap., Preacher to the Papal Household since 1980 under Popes John Paul II, Benedict XVI, and Francis

"… No ordinary biography about the 'poor man of Assisi' … a spiritual odyssey in the footsteps of Francis … a deeper understanding of the saint … experience the sights and sounds of Assisi as it was in Francis' day… well- researched, easy to read, and presented with the affection of a true son of Francis." Most Reverend Gregory J. Hartmayer, OFM Conv., Bishop of Savannah, Georgia

"Discover the life of the Seraphic Saint as one from among us. [This book] should not be missed." Tibor Kauser, OFS -- International General Minister for the Secular Franciscan Order

"A flesh-and-blood Francis Bernardone … a vivid picture of the milieu in which he lived…" Fr. Murray Bodo, OFM, priest and author

"A literary pilgrimage through the life of one of the world's best-loved saints. … Francis of Assisi comes alive in these pages… Read this book!" Fr. Albert Haase, OFM, author of Catching Fire, Becoming Flame: A Guide for Spiritual Transformation

"A wonderful book in so many ways … A flesh and blood Francis … historically informative and spiritually evocative … details of Francis's life and journey not found in other biographies… I highly recommend this book …" Sr. Ilia Delio, OSF, Villanova University, Author of Franciscan Prayer

"… Leads the reader through the life and times of Francis of Assisi and his early followers with skill and creativity … You won't be disappointed in reading this book." Fr. Daniel P. Horan, OFM, priest and author

---