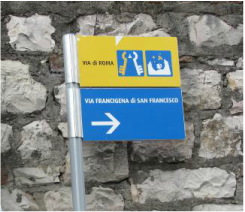 THE WAY OF SAINT FRANCIS
Walk into the city of Rome -- the city of the Popes and Saints Peter and Paul. Walk as a true pilgrim on foot -- the way millions of past pilgrims and saints of old did!

2016
will be a wonderful opportunity to walk into Rome in occasion of the Extraordinary Jubilee Year of Mercy.
The Way of Francis (also known as the Via di Roma or the Via Francigena Francescana) begins in Assisi and ends in Rome. The Camino offers truly stunning views of the Spoleto Valley, the Valnerina, and the Rieti Valley through the storied cities of Assisi, Spoleto, Rieti, and Rome.
The full walk from Assisi to Rome is divided into a series of 12 days/stages. However, we have options of shortening it to 10 or 5 days.
We can also offer various options from expert and fit hikers who prefer the challenge of the entire camino (a self-guided tour along the entire rustic journey with a backpack, or those who prefer easier walks with van service and an accompanying guide.


Click here to read what about what the trail is like from previous participants


Click here for more information on the Way of Francis
Click here for official website on Via Francigena Francescana
---