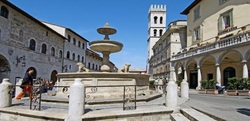 SELF-GUIDED WALKS IN ASSISI
We have created a series of self-guided walking pilgrimages around Assisi.
Walk at your own pace in the footsteps of St. Francis and Clare in medieval Assisi, the scenic Spoleto Valley, and along the panoramic trails atop Mount Subasio.
Visit where Francis prayed in the Carceri, served lepers in Arce, and where he rebuilt churches in Santa Maria, San Damiano, and Spina.
Re-trace Clare's footsteps where she was born in Assisi, where she visited San Paolo delle Abbadesse, Panzo, and finally San Damiano - where lived most of her life and died.
Discover Assisi like Francis and Clare did - on foot. Pray in each place. Listen to their stories. Meditate.
Click here for a sample daily walk
---