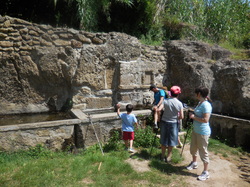 WALKING VACATIONS

We organize walking tours and vacations to Tuscany, Lazio, Umbria, Sicily, and the Dolomites and to other places within Italy.

We work with a local Umbrian guide who has been organizing and accompanying walking vacations and pilgrimages for over fifteen years.

Immerse yourself in Italy's scenic and natural wonders that are spiritually transformative and inspirational. Get to know Italy's vast cultural heritage intimately from an
artistic as well as a gastronomical side.

Fall in love with the country by interacting with the locals... farmers, shop owners, people on the streets.
Click here for a sample itinerary
---