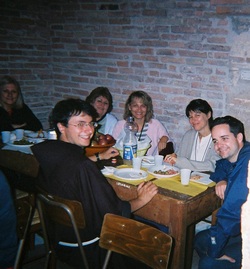 PILGRIMAGE ADVISER
Are you planning on going on pilgrimage to Italy or to other pilgrimage sites? Are you going by yourself, with your family, or with a few people? Let us help you create your own customized pilgrimage as an adviser or consultant.
We have many years of experience and know Italy well. We have a network of excellent hotels, religious guest houses, pensions, guides, transportation companies, and more which we will pass along to you.
For a modest fee, we will help you:
Create an itinerary that is feasible and viable
Recommend the best lodgings to stay in based on price, location, quality, and service - many of which we already work with and will allow you to take advantage of our negotiated rates
Recommend places to go, how to get there, and things to do along your route that you might not be aware of
Recommend the best guides
Recommend English-speaking priests or friars in Italy who can work with you
Recommend good restaurants
Find the best airfare rates and schedules
Arrange ground transportation to include trains, hired drivers, buses, and rental cars (helping you find the best rates)
Answer the many questions you will have
Contact us to help you put together your pilgrimage.
Click here for a sample program to Italy
---