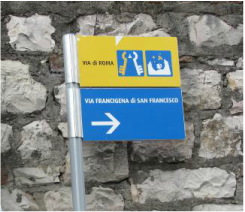 The "Way of Francis" (in Italian the 'Via di Francesco' or 'Via di Roma'), also known as the "St. Francis Camino" is the most popular Italian Camino.
Beginning in Assisi -- the Land of Francis and Clare -- it finishes in the Eternal City of Rome -- the city of St. Peter and the Popes. In this, it connects the spirituality of the humble city of Assisi with the majestic city of Rome.
The "Way of Francis" offers truly stunning views of the valleys of Spoleto, the Nera, and Rieti; it passes through the storied cities of Assisi, Spoleto, Rieti, and Rome, in addition to numerous lesser known medieval towns, many still walled.
The full walk from Assisi to Rome is 250 kilometers and takes about 13 or 14 days. We have options of shortening it depending on the time you have available. For example, you may wish to walk to Spoleto (4 days, 60 km) or from Assisi to Rieti (9 days, 145 km).
We can offer options for the expert hikers who prefer the challenge of walking the entire Camino; we can also help those who prefer to skip the difficult climbs (some in excess of 600 meters/2,000 feet) by arranging van or taxi service. We also have arrangements with taxis to transport your luggage permitting you to depart daily with only a light day pack.
The Camino is designed to be self-guided (there are sign posts, paint markings, GPX tracks, and several good English guidebooks), but, upon request, we can also provide an accompanying guide.


Click here to read what about what the trail is like from previous participants


Click here for more on the Way of Francis
Click here for the official website (in Italian)
---
---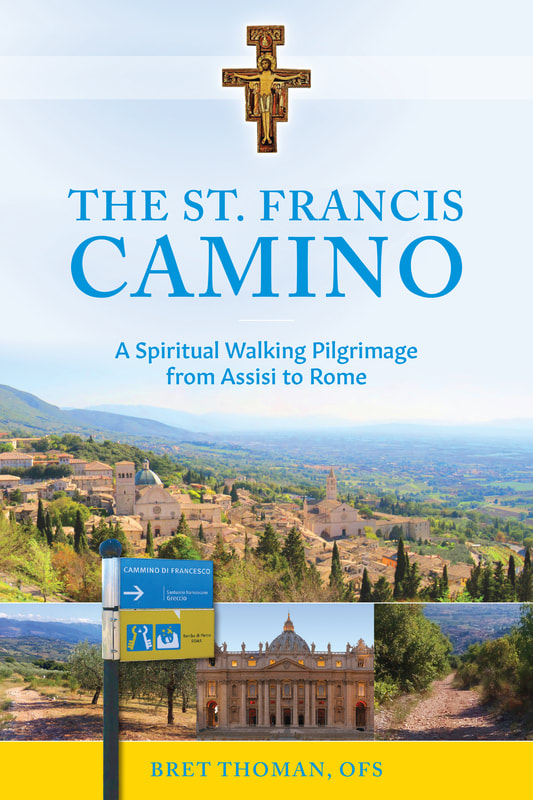 ---
The Daily Stages
Stage 1: From Assisi to Foligno (easier route)
Distance: 20 kilometers
Cumulative increase in altitude: + 301 m
Cumulative loss of altitude: - 429 m
Surface: asphalt road, gravel road, dirt trail
Time: 5 hours
Difficulty: Moderate

Stage 1a: Assisi to Foligno (harder route)
Distance: 22 kilometers
Cumulative increase in altitude: + 925
Cumulative loss of altitude: - 1034
Surface: asphalt, gravel, dirt trails
Time: 8 hours
Difficulty: Very Difficult

Stage 2: From Foligno to Trevi
Distance: 13 kilometers
Cumulative increase in altitude: + 425 m
Cumulative loss of altitude: - 240 m
Surface: asphalt road, gravel roads
Time: 6 hours
Difficulty: Moderate

Stage 3: From Trevi to Poreta
Distance: 12 kilometers
Cumulative increase in altitude: + 410 m
Cumulative loss of altitude: - 430 m
Surface: asphalt road, gravel roads
Time: 5 hours
Difficulty: Difficult

Stage 4: From Poreta to Spoleto
Distance: 15 kilometers
Cumulative increase in altitude: + 520 m
Cumulative loss of altitude: - 500 m
Surface: asphalt road, gravel roads
Time: 5 hours
Difficulty: Difficult

Stage 5: From Spoleto to Ceselli
Distance: 17 kilometers
Cumulative increase in altitude: + 641 m
Cumulative loss of altitude: - 663 m
Surface: dirt trails, gravel roads, asphalt roads
Time: 7 hours
Difficulty: Experts Only

Stage 6: From Ceselli to Arrone
Distance: 16 kilometers
Cumulative increase in altitude: + 221 m
Cumulative loss of altitude: - 248 m
Surface: asphalt roads, gravel roads, dirt trails
Time: 5 hours
Difficulty: Easy

Stage 7: From Arrone to Piediluco
Distance: 14 kilometers
Cumulative increase in altitude: + 294 m
Cumulative loss of altitude: - 152 m
Surface: asphalt roads, gravel roads, dirt trails
Time: 4.5 hours
Difficulty: Moderate

Stage 8: From Piediluco to Poggio Bustone
Distance: 22 kilometers
Cumulative increase in altitude: + 978 m
Cumulative loss of altitude: - 662 m
Surface: asphalt roads, dirt roads, dirt trails
Time: 8 hours
Difficulty: Experts Only

Stage 9: From Poggio Bustone to Rieti
Distance: 18 kilometers
Cumulative increase in altitude: + 395 m
Cumulative loss of altitude: - 745 m
Surface: asphalt road, gravel roads, dirt paths
Time: 7 hours
Difficulty: Moderate

Stage 9a: From Rieti to Greccio (optional excursion)
Distance: 24 kilometers
Cumulative increase in altitude: + 470 m
Cumulative loss of altitude: - 390 m
Surface: asphalt roads, gravel roads, dirt trails, country roads
Time: 7.5 hours
Difficulty: Difficult

Stage 10: From Rieti to Poggio San Lorenzo
Distance: 22 kilometers
Cumulative increase in altitude: + 499 m
Cumulative loss of altitude: - 377 m
Surface: asphalt roads, gravel roads, dirt trails, country roads
Time: 7 hours
Difficulty: Moderate

Stage 11: From Poggio San Lorenzo to Ponticelli
Distance: 23 kilometers
Cumulative increase in altitude: + 821 m
Cumulative loss of altitude: - 1015 m
Surface: asphalt road, gravel roads
Time: 8 hours
Difficulty: Very Difficult

Stage 12: From Ponticelli to Monterotondo
Distance: 30 kilometers
Cumulative increase in altitude: + 690 m
Cumulative loss of altitude: - 871 m
Surface: paths, asphalt road, dirt roads
Time: 9 hours
Difficulty: Very Difficult

Stage 13: From Monterotondo to Monte Sacro
Distance: 19 kilometers
Cumulative increase in altitude: + 311 m
Cumulative loss of altitude: - 422 m
Surface: asphalt road, gravel roads
Time: 6 hours
Difficulty: Moderate

Stage 14: From Monte Sacro to St. Peter's
Distance: 16 kilometers
Cumulative increase in altitude: + 158 m
Cumulative loss of altitude: - 168 m
Surface: urban sidewalks, bike paths
Time: 5 hours
Difficulty: Easy


---
Click the following links to watch Relive videos of each stage
---
MEDIA and NEWS