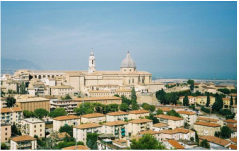 THE WAY OF LORETO
Walk the ancient Via Lauretana - the Way of Loreto - from Loreto to Assisi.
The Way of Loreto is an ancient pilgrimage route once known as the Via Lauretana. It journeys through Umbria and the lesser known Marches region.
It starts in Assisi - the city of Francis and Clare - and ends in Loreto - city famed for the House of Mary.
Shorter than the Ways of Francis and Benedict, the full route of the Way of Loreto takes only six or seven days.
You can start from Assisi and finish in Loreto, or vice versa.
We offer various options from expert and fit hikers who prefer the challenge of the entire Camino (a self-guided tour along the entire rustic journey with a backpack, or those who prefer easier walks with van service and an accompanying guide.
Click to visit the official website (in Italian only)
---